15 Feb

Welcome to my blog!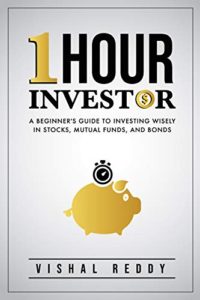 Hello, and welcome to my blog, Investing for Beginners! My name is Vishal Reddy. I am the author of the beginners' investing guide, ONE HOUR INVESTOR, now available for pre-order on Amazon Kindle and paperback (CLICK PICTURE TO PURCHASE). The audiobook version will be coming soon.
I will be posting at least twice a week about various topics in the investing/personal finance categories. This blog, like ONE HOUR INVESTOR, is aimed at those who are absolute novices when it comes to managing their money. Regardless of our different backgrounds, we all want the ability to save and manage money for the future.
You don't need an MBA or anything like that to understand this blog or my book. My goal is to demystify the topics of investing and personal finance so that anybody can learn. We will be covering topics, both big and small, so that you can learn as much as possible to secure your financial future.
Of course, please be advised that investing is a risky endeavor and can result in significant losses. After you read my posts, please consult a financial advisor before investing your money. I am presenting this information to educate you about how investing works and am not making any claims about the financial performance of any individual stock, bond, mutual fund or ETF, or the financial markets as a whole.
With that being said, I'm happy that you've come to visit my blog. Stay tuned for updates by signing up for my newsletter at http://vishalreddyauthor.com/free.  And if you have any questions, please don't hesitate to contact me at vishal@vishalreddyauthor.com or leave a comment below. Thanks, and see you soon!